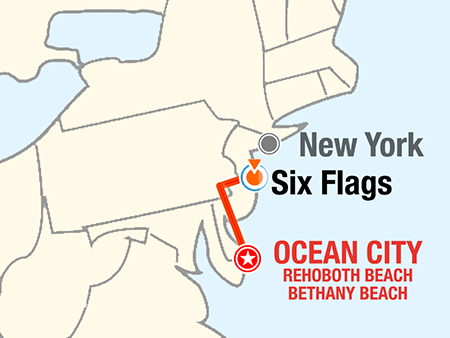 Six Flags Great Adventure is the largest theme park and drive-through wild animal safari in the country with the three parks situated on 2,200 acres. It is located in the state of New Jersey.  Six Flags Great Adventure will thrill guests with the introduction of Kingda Ka, the world's tallest, fastest steel roller coaster. Theme parks are open seasonally (April – October). The 510-acre theme park will debut Wonder Woman Lasso of Truth, the world's tallest pendulum ride! Spin, swing and scream 17 stories above Metropolis at 75 mph on this new thrill. EPOINT organizes trips in July, August and September.
SIX FLAGS – 1 DAY TRIP
$129
or
$80 Transportation ONLY
Includes: Transportation & Daily Pass
* In order to reserve a seat, please choose the date and fill out reservation form.