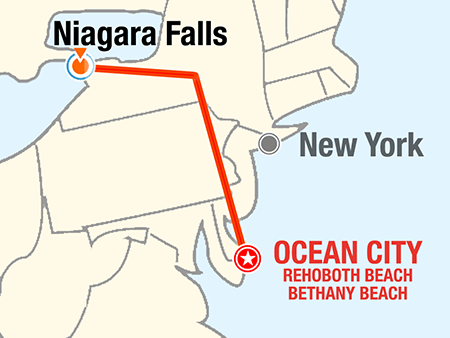 Niagara Falls is more than a natural phenomenon, a world-class destination. After so many years Niagara Falls tour proves to be a MUST see place for every Work & Travel participant. Truly beautiful natural wonder and amazing views makes Niagara falls one of the world's favorite destinations!
Starting mid July, E-Point Student Travel Center arranges 2 day trips to the falls every week. Easy schedule, Affordable low price, comfortable round trip luxury bus ride, cozy hotel makes this trip best value of the summer.
To reserve the seat on the bus please choose the date from the poster below and fill out reservation form on the right.
NIAGARA FALLS 2-DAY TOUR
$219
Includes: Guided Tour, Round Trip transportation & Hotel
IMPORTANT: since Niagara Falls, NY is located on the Canadian border, some of the students, for example, who are EU member country citizens will be allowed to enter Canada and come back; only if they have multiple entries US visa in their passports, will also be required to present valid DS forms to enter Canada. Others might be required to hold Canadian visa(please check with your country's consulate for requirements)
For any questions regarding this tour please contact Zviad, Tel: +1 443-365-0177
* In order to reserve a seat, please choose the date and fill out reservation form.