We know that travel may cause some hassle and it needs a lot of arrangements. Whether you arrive during the day or in the evening we always be there for you. Therefore reservation of our airport pickup and transfer services to Maryland and Delaware City Points in advance is the safest way of planning your trip. EPOINT shuttles provide daily pick up service from Union Station location in Washington DC and from surrounding airports such as IAD, Dulles International Airport, DCA, Reagan International Airport and BWI, Baltimore Washington International Airport.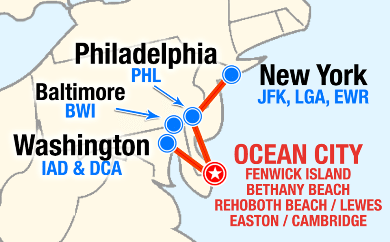 Shared Ride Prices and Destinations, One Way Rate Per Person in US Dollars
| Pick Up and Drop Off Airport and City | Lewes, Rehoboth Beach, Dewey Beach | Bethany Beach, Ocean View, Frankford | Fenwick Island, Selbyville, Georgetown | Ocean City, Suburb, Berlin |
| --- | --- | --- | --- | --- |
| JFK Kennedy | $110 | $110 | $110 | $110 |
| EWR Newark | $110 | $110 | $110 | $110 |
| LGA LaGuardia | $120 | $120 | $120 | $120 |
| Manhattan | $100 | $100 | $100 | $100 |
| Brooklyn | $110 | $110 | $110 | $110 |
| Union Station DC | $95 | $95 | $95 | $95 |
| IAD Dulles | $90 | $90 | $90 | $90 |
| DCA Reagan | $95 | $95 | $95 | $95 |
| BWI  Baltimore | $90 | $90 | $90 | $90 |
| PHL Philadelphia | $100 | $100 | $100 | $100 |
Why Choose EPOINT Transfer Service
Our convenient and easy booking process
Availability of multiple daily departure transfers from airports and other city points
Transferring you to your final address
Affordable price and service the other Shared Ride shuttle companies don't provide
Do not waste your money on expensive airport parking
Customer focused service – online and phone support
Cleanliness of our fleet, plus our vehicles are equipped with FREE WiFi on board
We are fully insured and licensed, authorized by the U.S. Department of Transportation (DOT); as well as licensed by Maryland Public Service Commission. E-POINT takes great pride in the cleanliness and reliability of its fleet, as well as the safety record of our professionally trained, experienced drivers.
Important Note: Do not accept services of any other drivers. These drivers may not be licensed of may overcharge you. In this case please contact us via below numbers.
Contact Us:
1 443 365 0177 (Zviad Phagava) – For Washington and Baltimore Area Pick Up Transfers
Frequently Asked Questions and Helpful Tips:
Where will I find EPOINT Representative at pick up point?
After you make your PICK UP reservation, confirmation email will follow with detailed instructions where and how to find out representative in the terminal. Look for the person wearing white shirt with EPOINT logo. In case if you cannot find our representative, do not panic. Please make sure you have available WiFi Service to connect your phone service or you can always ask someone to hand you phone to make a call in case if Free WiFi service is not available. It is always safe to have your active mobile phone from your home country with you for emergency calls and text messaging.
How does EPOINT shared ride transfer service work?
Our shared shuttle service is based on arrivals of other passengers. Our experienced representative usually determines the fastest travel routes by grouping you with other passengers that arriving in the same timeframe and traveling in the same direction, to insure that you are getting affordable and quick transfer service.
Can I get prompt transfer service?
Although it may eliminate waiting time, prompt service is available based on higher rates. Please discuss prompt service availability with our representative in advance.
Do I need to reserve my transfer in advance?
Advance bookings are highly recommended. This way you will have peace of mind knowing your seat is secured, and you will be given priority over walk-up guests.
What do I do if my flight is late, changed or canceled?
No Worries! If you flight delays, please keep us informed, email or text us once you have available WiFI connection about the issue. We can always schedule you for next available departure ride on the same day. Please be advised that in case if your flight is very late and if there is no transfer availability, we will do our best to assist you with available overnight accommodation in the area.
Can I get a service if my plane arrives after 8 or 9 PM?
As you have read before our shuttle service is based on arrival flow of other passengers that arrive with multiple flights. Usually, during arrivals season, May 15 – June 30th, we have available late departure shuttles. Please be advised that service charge may change for late pick up transfer service.